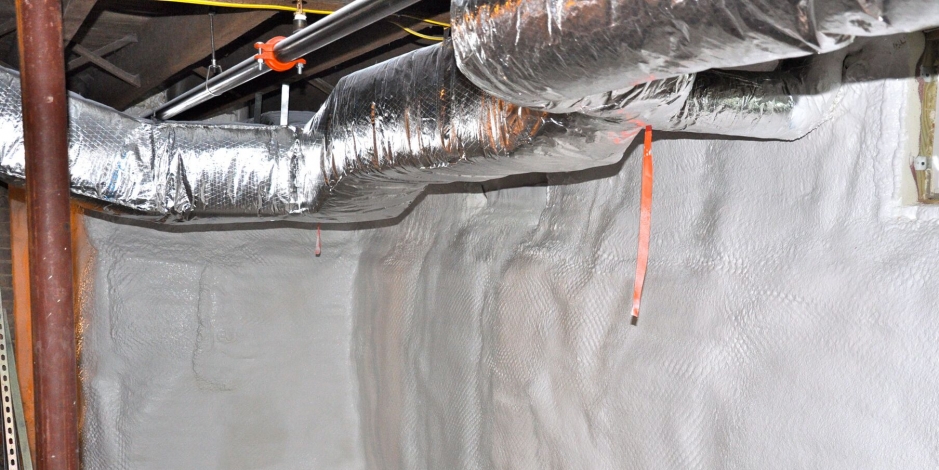 Better indoor air quality, energy savings & more
Learn more about the benefits of crawl space encapsulation.

The ventilated crawl space beneath your home is often out of sight and out of mind. But this key area can be the source of musty smells, mold, pests and animal life that make their way into your living spaces. Plus, your uninsulated crawl space could be costing you money! At Standard Insulating Company, our crawl space encapsulation services can improve your home comfort in a number of ways.
What's in Your  Crawl Space?
Crawl spaces here in the greater Charlotte area — including those in Gastonia, Mooresville, Concord, and Rock Hill — were originally designed for free air flow to help keep homes cool in the summer. These crawl spaces have vents installed and feature a dirt, concrete, or gravel floor. Unfortunately, this configuration allows pollen, mold, wet insulation, animal waste and other unpleasant substances to accumulate in the crawl space area.
Over time, this damp, dirty environment can create problems for your family. Mold, mildew, moisture and allergens can seep into your home from the crawl space, causing allergy and asthma like symptoms. Plus, if your crawl space is under-insulated, you could be wasting valuable energy used to heat and cool your home.
Benefits of Crawl Space Encapsulation
Upgrading your crawl space with encapsulation can improve your home energy efficiency, comfort and indoor air quality in several ways:
Humidity and moisture control

Pest protection

Improved comfort year-round

Energy savings

Reduced allergens and mold

Cleaner, safer indoor air quality
Our Encapsulation Services
The professional technicians From Standard Insulating Company will first inspect your crawl space as part of a free energy analysis. Based on that inspection, we'll be able to recommend ways to improve your home, including the crawl space, attic and wall insulation and air sealing. If encapsulation is one solution you opt for, here's what to expect:
Our team will take out old insulation, debris and other materials from the crawl space and safely remove them from your property.
Once any debris is cleared out, the crawlspace team will first air seal any gaps or cracks with expanding spray foam. Then we apply insulation to the foundation wall, between the floor joists, and around grates and duct work. As with all our insulation upgrades, we use Owens Corning fiberglass insulation for the highest quality and performance.
To remove moisture and prevent mold and mildew, the technicians will install a dehumidifier inside the crawl space.
Install Clean, White Plastic Barrier
Installing heavy-duty white sealing film is the final step of the crawl space encapsulation process. This 12 to 15 mil thick plastic is applied to all surfaces and tape sealed to create a single continuous barrier against moisture and pests and to ensure your insulation stays intact.
Once your crawl space encapsulation is complete, you'll major a big difference in air quality, comfort and energy savings!
Is your dirty crawl space affecting your air quality and wasting valuable energy? Improve your home with a crawl space repair. Call (704) 333-5151 or contact us to get started with a free energy analysis!